Doris Justis
has been a mainstay of the local folk and acoustic scene for over 35 years - producing concerts, coffeehouse events and her own live radio program. Her first love is singing and performing. She debuts her solo CDs, Who to Turn to, presenting originals, contemporary and traditional tunes and new arrangements of old favorites with her band, and Doris, featuring Sean and the songs "Rainbow Bridge" and "Amazing Grace". She also performs in the popular duet, Side by Side, with Sean McGhee, and of course, solo.
The Washington Post recently said "...she's a sensitive interpreter whose attractive soprano never fails to bring warmth and luster to her material..." Her own songs such as "Who to Turn to" and Rainbow Bridge" will tug at your heartstrings and your voice, as Doris is very much an audience participation performer.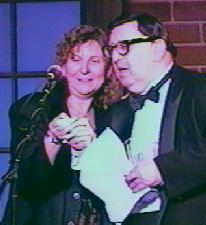 She was the first producer of Dick Cerri's monthly Music Americana Showcases and production manager of his live radio program, Music Americana, for over 10 years. Her own radio program, Folk Alley, had a four year run on WTRI AM in Brunswick, MD. Doris regularly performs at the Ethical Societies of Washington and Northern Virginia, Stacy's, St. Elmo's, Baldwin's Station, and Schlesinger Center, to name a few. Recently she appeared at benefits for Windstar and the World Folk Music Association and she produced the "Folk Against Drinking & Driving" concert each New Year's Eve. In addition, she is the Music Director of the Northern Virginian Ethical Society and directed their chorus, WESingers, for seven years.